As a non-profit, ARTS relies on donor and foundation support to help achieve our mission to improve the quality of life and productivity of individuals and families affected by substance use and co-occurring mental health disorders. There are many ways give and to help support ARTS: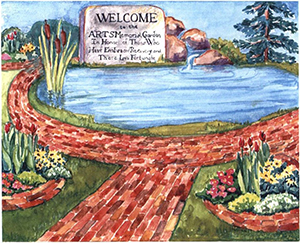 Buy a Brick: 1/2 Ways to Give
Supporters of ARTS have the opportunity to demonstrate their compassion and concern for those suffering from the disease of addiction by purchasing a brick in ARTS memorial garden. This memorial garden will help those in need find the pathway to recovery. Monies raised by this undertaking will be utilized for client recreational, academic and cultural enrichment activities. For more information, click here.
ARTS Program Support: 2/2 Ways to Give
Donations can be made to enhance treatment services for individuals in our treatment programs. These enhancements include funding additional:
Substance Abuse Treatment Services
Mental Health Treatment Services
Adult and Pediatric Medical Services
Adult Education and Job Readiness Courses
Specialized Child Care
Family Interventions and Support
Prosocial Activities
To support one of ARTS' treatment programs, please visit giving.cu.edu and choose the program you wish to support.