Synergy has provided substance misuse treatment to adolescents since 1978. It serves adolescents with substance use, conduct, and other co-occurring psychiatric disorders. Synergy is grounded in promising and evidence-based practices; all services emphasize developmentally appropriate, empirically supported treatments. Treatment is informed by a comprehensive assessment, which leads to formation of an individualized treatment and continuing care plan.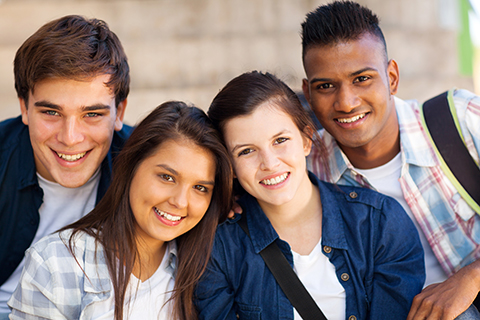 Synergy offers a variety of outpatient-based services for male and adolescent females between 12 and 21 years of age.
Evaluation Services
Synergy programs offers evaluation services to all referral agencies and to individuals and families. This service consists of a comprehensive assessment that focuses on alcohol and drug problems, behavioral problems and mental health assessment. Referral sources including caseworkers, probation officers, and parents will receive a detailed report and/or personal feedback from this evaluation. If warranted, treatment recommendations are also an integral part of the report feedback. Some of the major areas that can be included in the evaluation are:
Substance Use Disorders
Conduct disorder and juvenile delinquency
Psychiatric or psychological problems
Aggression
Family problems
Multisystemic Therapy Substance Use Adaptation
Multisystemic Therapy Substance Use Adaptation (MST-SA) is a home-based model that is evidence-based and continuously monitored for fidelity of implementation. It is an integrated treatment for substance use and mental health disorders. Multisystemic means that Synergy strives to work with the adolescent and his or her family, school, community, and peers to achieve positive behavioral change. The goal is to assist the adolescent to remain at home, to learn how to live a healthy, drug-free life, and to be successful in school and work. The key is to coordinate all facets of the adolescent's life and align them in a focused direction. Paired with contingency management, the expected outcomes of MST are the elimination of substance use and behavioral problems, including criminal activity, truancy, academic deficits, and reduction in family conflict. MST can be the primary treatment intervention for adolescents and their families, or constitute aftercare for those who have completed intensive treatment.
Adolescent Community Reinforcement Approach
Adolescent Community Reinforcement Approach (ACRA), an office-based outpatient treatment approach, is a behaviorally based intervention that is effective in helping adolescents find alternative coping strategies and supports in their community to avoid drug use. ACRA helps promote abstinence, positive social activities, and positive family and peer relationships.
Assertive Continuing Care
Assertive Continuing Care (ACC) is an empirically supported community and home-based model and it is available for those youth who have completed a residential, day treatment, or a similarly intensive program. ACC utilizes the ACRA therapy model and relies heavily on home-based case management to assist the youth in achieving goals and developing positive activities. This involves linking the youth to services in the community (e.g., 12-step support group, work or pro-social activities, mental health counseling); monitoring his/her continued involvement with the service; advocating for the individual as needed (e.g., with probation or school/work); and providing support through difficult times (e.g., relapse or problems with caregivers). The therapist may also offer transportation to an individual to help him/her engage with a pro-social activity.
Alternatives for Families – A Cognitive Behavioral Approach
Alternatives for Families – A Cognitive Behavioral Approach (AF-CBT) is an evidence-based treatment designed to improve the relationships between children and caregivers in families involved in arguments, frequent conflict, physical force/discipline, or child physical abuse. The goals are focused on enhancing child/family safety; to help families better adapt to and cope with difficult life circumstances; and to improve parent-child relationships.
Traditional Outpatient Services
Traditional Outpatient services are offered to both male and female adolescents. It can include individual or family therapy, psychiatric assessment, medication management, and urine monitoring. These office based services can be provided at the FRP location, the Fort Logan location or through telehealth.
ENCOMPASS
ENCOMPASS is an evidence-based integrated intervention for adolescents and young adults (ages 13-19) with co-occurring substance abuse and mental health issues.  Its core components include: Comprehensive Diagnostic Evaluation for Psychiatric and Substance Use Disorders, Individual Cognitive Behavioral Therapy (CBT), Motivational Incentives ("fish bowl"), and Engagement in Pro-social Community-Based Activities.  Weekly individual CBT sessions may be combined with up to 2-4 family session as clinically indicated. Treatment targets substance use and addresses psychiatric symptoms that are often triggers for substance use/relapse (e.g. depressed mood; anxiety, impulsivity, frustration intolerance). The average duration of treatment is 16 weeks (approximately 4 – 5 months).  Treatment includes weekly urinalyses and is offered as either office-based or telehealth.
Risk Reduction through Family Therapy (RRFT)
Risk Reduction through Family Therapy (RRFT) is an integrative, ecologically informed approach to addressing co-occurring symptoms of PTSD, substance use, depression, and other health risk behaviors often experienced by trauma-exposed adolescents.  RRFT is an office-based model for adolescents age 13-18 that focuses on seven intervention components: Psychoeducation/Engagement, Coping, Family Communication, Substance Use, Posttraumatic Stress Disorder (PTSD), Healthy Dating & Sexual Decision Making, and Re-victimization Risk Reduction. RRFT is individualized to the needs, strengths, developmental factors, and cultural background of each adolescent and family and typically involves 16-20 weekly, 60-90 minute sessions, with periodic check-ins between sessions.  Sessions include individual therapy and family therapy as well as urinalyses.  RRFT is unique and innovative in its integration of trauma and substance use.  Sessions are offered as in person office-based or via telehealth.
Family Resource Pavilion (FRP)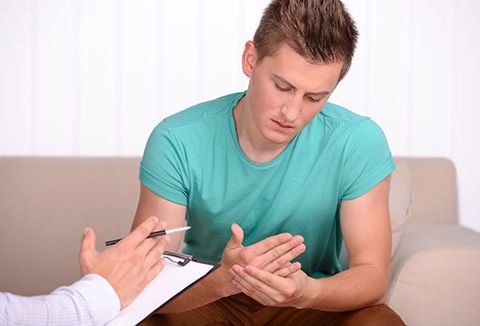 Synergy also offers outpatient substance misuse treatment services at the Family Resource Pavilion, located in Centennial, CO. The Family Resource Pavilion brings a variety of organizations together to provide individualized services to families without them having to drive to multiple locations. Synergy offers individual, family, and group therapy, as well as evaluation services from this location.
Synergy Program Licensure and Credentials
It is licensed by the Colorado Behavioral Health Administration.
Synergy programs are staffed by multi-disciplinary teams of professionals, including psychiatrists, licensed mental health therapists, licensed clinical social workers, licensed addictions counselors and certified addictions specialists. Faculty members from the Division of Addiction Science, Treatment & Prevention, Department of Psychiatry, work in the Synergy program, providing psychiatric consultation and direct clinical care, while also conducting clinical research. This integration of research and practice is the foundation for all of Synergy's services. It ensures that the individuals are participating in interventions that are grounded in current scientific evidence.
Referrals
Synergy serves youth primarily from the Denver metro area. Referrals are accepted from human services, probation and judicial districts, Denver Collaborative, SB94, Division of Youth Services, Medicaid, family, and self-referral using our referral form found here.
If interested in learning more about Synergy programs or to schedule an intake appointment, please call 303-934-1008.